Who We Are?
Making sustainable living a part of your daily life through unique Homeware products. 
Fabartistry is a visionary enterprise inspired by nature. Our products are the perfect blend of earthy design and sensibilities.
We are a family destination for eco-friendly home products founded by a dedicated team of women entrepreneurs who are passionate about inspiring customers to go green.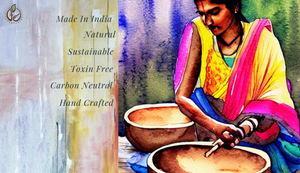 ★★★★★

Nice finish and looks good. Product is handy and useful . Worthy product that is eco friendly too. An excellent replacement for the plastic ones!

UMAMAHESWARI DILIPKUMAR

India
★★★★★

Elegant and nice!! Liked the product...
Perfect for scooping rice and atta! Nice finish!!
Overall a good and must have product…

Geetha

India
★★★★★

Beautiful little masala spoons with capacity to lift a reasonable quantity of masala. Strongly recommended for your kitchen.

Peeyush K.

India
★★★★★

Really liked their personal touch. Got a hand written message thanking me personally for purchasing the item. The spoons are quite useful. They fit nicely into small jars of spices. The scoop is exactly the right size. Very happy with the product, packaging.

Amazon Customer

India
★★★★

Glad to come across this cutting board. We had bought a standard cutting board from the market initially, but it did not last long. While found the price of this board slightly on the higher side, it was a delight when the package came in. This one is a heavy, solid and most importantly much larger than any standard board you ll find. Made it easier to chop and an innovation is that i have been using this as a platter :)

Nirmal

India
★★★★★

I totally love it. Do for it guys. You won't regret it.

Jamyang Dolma

India
★★★★★

Very good quality and heavy tadka pan. Go for it. Fabartistry products are always fantastic. Very small cute little pan, quite like it

Rekha

India